Chai Muffins with Cardamom Streusel Topping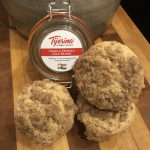 Yield:  12 muffins
Ingredients
2 cups all-purpose flour
2 teaspoons baking powder
½ teaspoon salt
¼ cup Tijerina Global Spices Vanilla Masala Chai
½ cup unsalted butter
½ cup white sugar
2 eggs
1/8 cup sour cream or plain Greek yogurt
1 teaspoon vanilla
½ cup milk
Streusel Topping
2 tablespoons all-purpose flour
4 tablespoons white sugar
1 tablespoon TGS Vanilla Masala Chai
1/8 teaspoon fresh ground green cardamom
2 tablespoons salted butter, cubed
Method
Pre-heat oven to 350 degrees. Grease 12 muffin cups or line with paper muffin liners.
Sift flour, baking powder, salt, and chai into a small bowl.
In a large bowl, beat ½ cup butter with ½ cup sugar until light and fluffy.
Beat in eggs, sour cream/yogurt, and vanilla.
Fold in dry ingredients alternately with milk.
Spoon batter into muffin tin or muffin cups. (I use a #16 scoop, which is 4 tablespoons or ¼ cup)
In a small bowl, combine the streusel topping ingredients cutting in the butter with a fork until it resembles coarse crumbs. Sprinkle this over the muffin batter.
Bake for 18-20 minutes or until a toothpick inserted in the center of the muffin comes out clean.
Cool pans on a wire rack.
Sit back, relax with a nice cup of Tijerina's Vanilla Masala Chai Latte and a muffin. You deserve it!