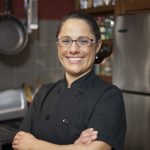 Jessica has had a love of cooking with and for others her entire life.
Her own experiences through travel and education have provided her with a unique set of skills and a wide variety of knowledge of local and global cuisine.
She brings flavors not only from some of the greatest cities in the U.S. but of Mexico, France, Italy, Spain, Jamaica, Ireland, Cuba, India and more into her dishes.
She has partnered with many local businesses as a brand ambassador, educating the public both on ethnic and local food sustainability working closely with The Northeast Minneapolis Farmer's Market and its vendors and United Noodles.
Jessica teaches at The Abundant Kitchen, Nordic Ware and Grand Fête. She is proprietor of Jessica Tijerina Extraordinary Culinary Education where she leads guests through step-by-step in-home culinary adventures. She has recently launched Tijerina Global Spices where she toasts and grinds her own spice blends from around the world. All of the spice blends have zero added preservatives, colors or flavors and are free of salt, allowing individuals to "salt to taste".
She appears regularly as a guest chef for ABC affiliate KSTP's "Twin Cities Live". She hosts live cooking demos and has most recently been teaching virtual classes.
She manages the cooking stage and chef demos for the Minnesota Garlic Festival, hosted by the Sustainable Farming Association.
She volunteers her time to Perspectives, Inc. where she helps to fulfill their mission, "Breaking cycles for at-risk families and children for total family recovery", working in the Kids Café cooking and teaching the importance of healthy, nutritious meals.
She is an advocate for women owned local businesses like Provision Community Restaurant that has a "come as you are, give as you can" business model, leaving no one out and fostering the building of new relationships in our community.
"Whatever it is you are searching for; I hope you can eat it."  -Jessica Tijerina