if you missed the shenanigans that Elizabeth, Steve and I got into each month on Twin Cities Live! 
---
Dates I will be there  in 2021: May 15th, June 5th, June 26th, July 3rd, July 17th, July 31st, August 14th, August 28th, September 4th, September 18th, October 8th
The Northeast Farmers Market is open 9am-1pm Rain or Shine every Saturday through October 17th.
---
I will be at the Maple Grove Famers Market Thursdays through October 3pm-7pm. Click for more…
Dates I will be there in 2021:  May 13th, May 27th, June 3rd, July 1st, July 15th, July 22nd, July 29th, August 12th, August 19th, August 26th, September 9th, September 16th, October 7th, October 21st
---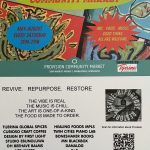 Join me and my friends at the Minneapolis Community Market at Provision Community Kitchen on Saturdays 3pm-7pm May through August! We share a kitchen. We share stories. We share a lot of laughs. Come on over to Uptown and share with us. Local food, music and art. 
Dates I will be there in 2021:  May 15th, July 3rd, July 17th, July 31st, August 14th, August 28th
---

FREE CLASSES through The Seward Co-Op Check back for Fall classes!
---
FUTURE CHEFS UNITE!  
Check out my classes. Sign up. Have fun! I teach Adult and Kids classes. Follow the links for descriptions, dates and registration.
Contact me for more information! mail@jessicatijerina.com 
Minnetonka Community Education
MAY: A Night in Havana  
It was a blast! Thank you to everyone who signed up and made the night so much fun! See you all in June. 
JUNE:  Cajun/Creole – The New Orleans Experience
Tuesday, June 29th 5:30pm-7:30pm
Begin with a Cajun Spice Blend – simple, yet complex, with a rich history.
"Laissez les bon temps rouler", "let the good times roll."
JULY:  A Trio of Tapas – The Spanish Experience
Tuesday, July 27th 5:30pm-7:30pm
Take a stroll along los calles de España with Chef Tijerina as she reminisces of days spent in Spain. The cocineras in Toledo, Spain taught her how their families made these classic Spanish tapas. 
AUGUST: Awful Good Pub Fare: The Ireland Experience
Tuesday, August 24th 5:30pm-7:30pm
 A favorite Irish saying, "There are no strangers here only friends we haven't met yet!" 
---
Kids Classes!  Grand Fete in Hudson, Wisconsin.
Schedule coming for Fall 2021…
Can't wait? Just send me an email. I would love to set something up for you and your friends & family.