Grandma June's Mini Apple Pies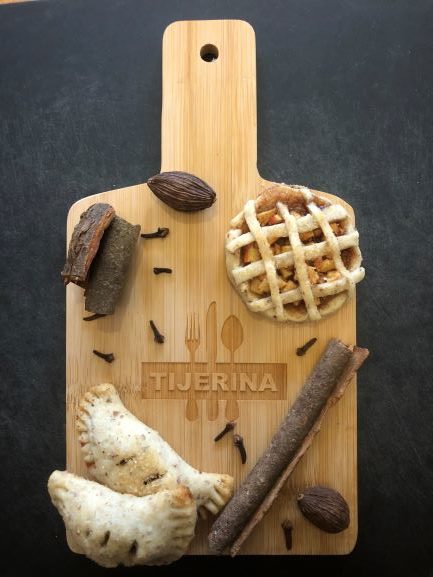 Yield: 18-20 mini apple pies
Ingredients
1 package ready made pie dough. June's pie dough recipe can be found HERE
2 apples, your choice, cored (I leave the peels on) and diced small
¼ cup sugar
3 tablespoons brown sugar
1 teaspoon cinnamon
¼ teaspoon cloves
¼ teaspoon nutmeg
1 egg + 1 teaspoon water
Optional: Demera Sugar
Method
Pre-heat oven to 400 degrees. Line a baking sheet with parchment.
In a medium bowl mix apples, sugar, brown sugar, cinnamon, cloves and nutmeg. Set aside.
In a small bowl, whip egg and water for egg wash and set aside.
Using packaged dough, roll out until about 1/8 inch thick. Cut circles out with a pastry cutter or round cookie cutter. You should get about 10 per crust.
Holding one of the pieces in your hand, coat "outer edge" with egg wash, enough to help seal the dough and add about 2 teaspoons filling into dough. Fold over into a half moon shape and crimp edges to seal. Set on baking sheet.
Continue with remaining dough and filling until nothing remains.
Using a fork, crimp edges lightly for a fancier look! Using a sharp knife, I use a paring knife, slice 2-3 small holes in the top.
Brush with egg wash. This is where you can also sprinkle Demera sugar on top for a crunch once baked. Also, fancy!
Bake until pies begin to turn light golden or 10-12 minutes.
Cool on a wire rack. Store in an airtight container in the refrigerator up to 5 days.
Enjoy!