İFiesta de Cinco de Mayo!
Queso Fundido (Melted Cheese)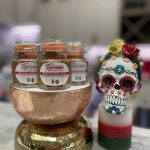 Yield:  4-6 Servings
Ingredients
5 ounces Mexican Chorizo, casings removed. (Spanish chorizo works too)
8 ounces Monterey or Oaxaca Cheese, cubed (2 ½-3 cups)
16 ounces melting cheese (Velveeta, Bongaard's, etc.)
½ can Rotel tomatoes with green chiles, drained
1/2 teaspoon Tijerina's Carnitas Spice Blend
Flour tortillas or tortilla chips for serving
Method
1.
In a medium, oven proof skillet or cast-iron pan, over medium high heat, a
dd the chorizo and Carnitas Spice Blend and cook, stirring frequently
to
avoid it from sticking to the bottom. 4-5 
minutes. Remove from heat and set aside. 
2. In a medium saucepan melt all of the 
cheese, and ½ can Rotel with green chiles in a pan over medium heat and cook 5-7
minutes or until the cheese is melted and bubblin
g.
Stir continuously so that the cheese does not burn.
5.
Remove f
rom the
heat, add chorizo
,
stir, and transfer
 to a serving dish.
6.
Serve warm wi
th tortillas or chips.
Buen Provecho
Jessicatijerina.com