Garam Masala Chicken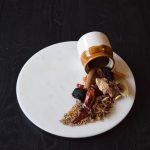 Yield:  4-6 Servings
Ingredients
1 Onion, chopped
1 T Garlic, minced
1 T Ginger, minced
1/2 or 1 14 oz. can Fire Roasted Diced Tomatoes (Depends how thick you would like the sauce)
2 T Ghee or Vegetable Oil
1 T Tomato Paste
¼ cup Water
1 T Tijerina Garam Masala Spice Mix (or quick & simple recipe Here)
1 lb. Chicken (Boneless things preferred)
4 T Coconut Cream, Heavy Cream or Plain Whole Milk Yogurt
1 bunch fresh Cilantro, rough chopped
Method
Place onion, garlic, ginger, tomatoes and salt in a food processor and process until a paste forms,
In a medium sauté pan over medium heat, melt the ghee or oil and add the mixture along with the tomato paste and stir.
Bring to a boil, stirring occasionally, then reduce heat to low and simmer 5-7 minutes until the sauce thickens.
Stir in Tijerina's Garam Masala, add the chicken and simmer about 10 minutes or until the chicken reads an internal temperature of 167 degrees.
Beat the cream/yogurt in a bowl and stir 1-2 T of the sauce into the bowl and beat continuously so that the cream does not break.
Stir in the cream mixture into the pan until mixture is creamy.
Serve immediately over Saffron Rice with a side of Raita. Enjoy!
Saffron Rice
Yield:  4-6 Servings
Ingredients
2 cups Basmati Rice
1 3/4 cups Water
1 tsp. Kosher Salt
1 Star Anise
¼ tsp. Saffron
Method
Pre-heat oven to 350 degrees.
Butter a 2 1/2-quart baking dish.
*In a medium saucepan over high heat add all of the ingredients and cook until boiling.
Remove from heat and pour mixture into the baking dish, cover with foil and bake until liquid is absorbed and rice is tender. 20 minutes. Remove from oven, let rest for 5 minutes and fluff with a fork.
*Alternatively, you can add the rice to the dish, pour hot water over and stir and then cover and bake.
Raita
Yield:  4-6 Servings
1 clove Garlic, minced
1 cup Plain Whole Milk Yogurt
1/2 tsp Salt
1/4 tsp Sugar
1/4 tsp Paprika
1 English Cucumber, peeled and diced
1 Carrot, julienne
1/2 tsp Black Pepper, freshly ground
Method
In a small bowl, beat yogurt, garlic, salt, sugar and paprika.
Mix in cucumber, carrot and black pepper.
Chill covered in refrigerator until ready to serve.